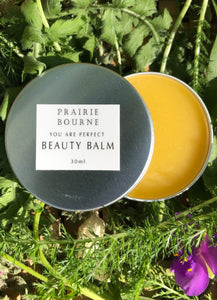 *Beauty Balm isn't shipped June thru August. 
Description: 
Nourish and Protect. The elements can be harsh on your skin. Botanicals are infused into jojoba oil, carrot seed oil and rosehip seed oil to feed your skin while beeswax (from our own bees) protects from environmental stressors.
How to use:
Keep next to your bed to put on your hands and face. I also keep one in my purse at all times.
Sensory experience:
Notes of spring in Oklahoma. Beautiful beeswax from our bee's makes for a luxurious treatment for your hands and face.
Ingredients:
beeswax, yarrow, calendula, creosote, babchi, licorice,  lemon balm

100% organic
30 ml | round tin