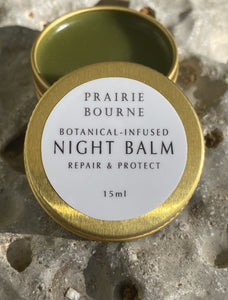 *NIGHT BALM isn't shipped June thru August.
Description: 

Repair your skin while you sleep with 12 powerful Botanicals specifically chosen to heal and regenerate. Protect and hold moisture in with Beeswax from our Bees. 
Sensory experience:
Notes of Blue Tansy, Blue Camomile and  Neroli will instantly relax your mind and lull you to sleep.


How to use:
Keep by your bedside. Rub between hands and liberally massage into your face, neck and décolleté. 
Ingredients:
Organic ingredients: Jojoba oil, Apricot seed oil, Beeswax, Cocoa butter, Rose, Cottonwood buds, Calendula, Melissa, Butterfly pea petals, Yarrow, Willow tree bark, Arnica, Lavender, Babchi, Essential oils: Blue Tansy, Blue Chamomile, Benzoin, Neroli
100% organic 
15 and 30ml | metal tin