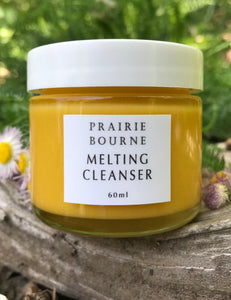 *Melting Cleanser isn't shipped June thru August. 
Description: :

Feed your skin with luxurious cocoa butter, repair with anti-aging rosehip seed oil, and protect with babchi infused jojoba oil.
Sensory experience:
Breathe in chocolate and warm earthy goodness. Experience the most luxurious way to cleanse your face.
How to use:
Use a warm washcloth to steam your face. Massage ½ tsp. of melting cleanser into your face and neck. Use a warm washcloth to remove impurities and makeup from your face. 
Ingredients:
Cocoa butter, rosehip seed oil, babchi infused jojoba oil
100% organic 
60 ml | glass jar