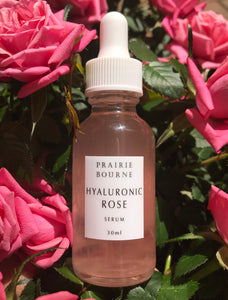 Description: 
Hyaluron is a water-loving molecule that plumps up your skin. Perfect for filling in fine lines. Rose oil nourishes your skin while lifting your spirits. Dragon fruit is an antioxidant. This serum is light and quickly absorbs into the skin.
*Buy together with your Rose Quartz Roller and save $5.
How to use:
Splash your face 25x with cold water. Massage one dropperful of hyaluronic rose serum into your face, neck, and chest. 

Sensory experience:
Raise your vibrations with the uplifting feeling of being in a rose garden on a rainy day. 
Ingredients:
springwater, hyaluronan, rose essential oil, dragonfruit
100% organic
30 ml | glass bottle