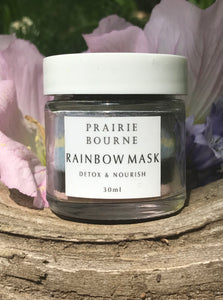 Description:  
Detox with activated charcoal and clay. Nourish and fight free-radicals with the antioxidant power of green tea, butterfly tea, dragonfruit, and blue spirulina.
How to use:
Place ½ tsp of Rainbow Mask and ½ tsp of water in a bowl and stir. Add more water if needed. Apply to face, rinse after 20-30 minutes.
Sensory experience:
Relax and let the antioxidants of a rainbow feed your skin and allow the activated charcoal to clean your pores. 

Ingredients:
Rose clay, bentonite clay, activated charcoal, butterfly pea tea, green tea, blue spirulina, dragonfruit 
100% organic 
30 ml | glass bottle