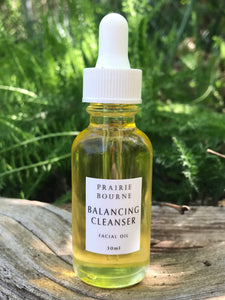 Description: 

Camellia oil/tea seed oil has been used for centuries in Japan to beautify the skin. Cleans your pores and nourishes your skin. Yarrow heals blemishes/scars white willow bark has naturally occurring salicylic acid to balance break out prone skin and stop inflammation. Creosote nourishes your skin.
Sensory experience:
The subtle notes of the Oklahoma prairie mixed with the smell of the Arizona dessert after a rain.  

How to use:
Warm-up your face with a warm washcloth. Massage a dropper full of balancing cleanser into your face and then wipe off with a warm washcloth or cotton round.
Ingredients:
camellia oil, yarrow, creosote, lemon balm, white willow bark 
100% organic 
30 ml | glass dropper bottle